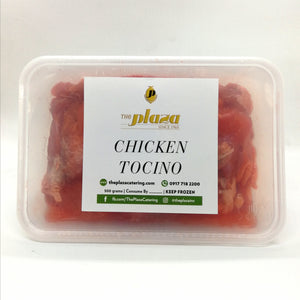 500 grams
COOKING INSTRUCTIONS:

On a pan, boil pork tocino with add 1/2 cup of water and 2Tbsp cup olive oil.
Cover the pan with a lid.
Let it simmer and stir occasionally until water has evaporated, sauce has thickened and color has changed to a darker shade.
SERVING SUGGESTIONS:
Serve with garlic rice, egg and vinegar on the side.