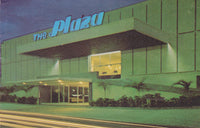 The History Behind The Plaza
The Plaza is a continuing saga of four generations of pioneering restauranteurs who have continued a legacy of food excellence throughout the years, from Aling Asiang, the first generation matriarch, all the way down to Karla Marina, her great granddaughter.
The Plaza Premium Baked Ham
The Plaza Premium Baked Ham was developed in the 60's by Master Chef Gosta Pettersson upon the suggestion of Imelda "Meldy" A. Reyes, wife of Joe. Meldy, familiar with the palates of Manila's elite, insisted on a piece de resistance for every Filipino table. Though it was inspired by the Swedish ham usually served during Christmas time, it was designed for the Filipino taste: a perfect blend of sweet and salty. Cured, lightly wood-smoked with herbs and spices, oven-baked, glazed and covered with a sweet crumbly crust, this freshly baked ham is now available every day at five retail outlets around Metro Manila.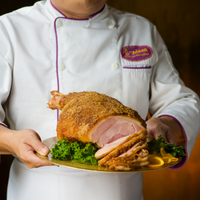 The Plaza Premium Corned Beef
In the mid-60's Joe & Chef Gosta got the inspiration for the boiled corned beef from the popular New England dinner consisting of boiled brisket of beef with assorted vegetables. It was an alternative to our 'beef nilaga' which Lola Asiang loved to serve for Sunday lunch. It was an ideal potluck dish for family gatherings.
When The Plaza launched its freshly boiled corned beef it was an instant hit and became the best seller. Chef Gosta served it with steamed carrots, potatoes and tiny cabbage that people mistook for Brussel sprouts. And, of course, the horseradish sauce!